This Week's Flavors: February 18-23
A day late, but here I am with the blog! I should have known last week when I spent three hours shoveling out our house with wet shoes on, then spent yet another hour in a torrential downpour chiseling the giant sheet of ice covering our outdoor drains while standing ankle deep in frigid water, that just maybe I would eventually get the kind of sick that I haven't experienced in years. I've spent two days in various horizontal positions, finding creative ways to breathe, mulling over how a simple cold that I would have shrugged off in my youth completely knocked me on my ass at 33.  Know what happens when you take NyQuil at 33? You hallucinate hard for 12 straight hours.  I never thought the highlight of my week would be Quil-trippin, but here we are.
Fortunately, I'm feeling much better, and the best staff in the biz has been holding down the fort at the bakery.  Neither snow nor sleet nor me lying facedown on the couch screaming "GET THESE LEMURS OFF OF ME!" will stop the Robicelli's magic from happening.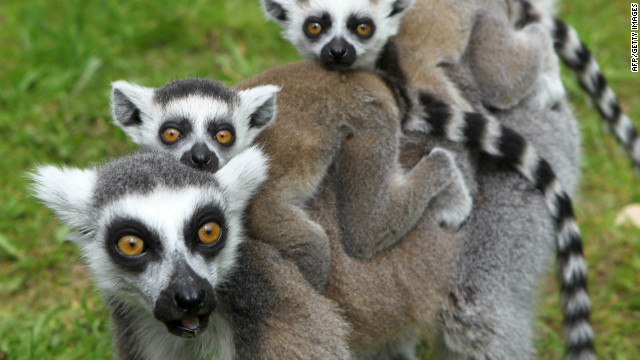 I mean, it's an adorable hallucination, but after five or six hours you just want your personal space.
I'm really excited to personally be getting back to work in a few days, because all paperwork and no baking make Allison go something something.  Recently we've been making a hell of a lot of birthday cakes, which you've probably seen on our Instagram account (you are following us on Instagram, right?).  And this coming weekend we're probably making the most important one of our entire career thusfar.
Many of you might not know who Gina DePalma is, but to Matt and I, she's sort of a personal hero. Gina was the pastry chef at Babbo, the restaurant that began Mario Batali's empire. She's a cookbook author, a James Beard award winner, and a cancer warrior.  She and I have been penpals of sorts the past few years — how, I don't precisely recall, but I still get butterflies in my stomach every time I see an email from someone I've idolized for years in my inbox.  
Last year, Gina had to leave the kitchen to concentrate on her health. Last week, Matt and I had the honor of receiving an email from the Batali/Bastianich camp inviting us to participate in this:
First off, the notion that we are some of "New York City's most renowned pastry chefs" is pretty incredible on its own.  But past that, there's something incredibly sweet about being able to do something, however little, to help someone who has meant so much to me through my entire career. 
In addition the unlimited food and cocktails, and all the hobnobbing with fancy New York people, you'll also have a chance to ogle, and bid on, a Robicelli's S'Mores cake: three rich chocolate cake layers filled with speculoos pudding, covered with toasted marshmallow buttercream, homemade graham crackers, roasted homemade marshmallows and dark chocolate ganache. It will quite possibly be in the top ten sexiest things at Otto that night. Yes, I'm taking Batali into consideration.
For more special shindings that we're participating in, keep your eyes on our events page.  Not only are we getting into prime food event season with Choice Eats and more coming up, but we've also got rescheduled dates for all those cooking classes and book events we had scheduled that ended up being cancelled due to snow.  (stupid snow)
And now……this week's flavors! Friendly reminder, we have lots more available on the weekends (which of course you can find out about on Facebook), 
The Julia: Pear cake, brown butter buttercream, brandy snap cookie
Banana Cream Pie: Banana cake, vanilla custard buttercream, custard filling, banana chip, graham cracker crumbs
Liddabit: Chocolate cake, salted caramel nougat buttercream, roasted peanuts, ganache, caramel
Hazelnut Kiss: Chocolate cake, Nutella buttercream, ganaches, chopped hazelnuts
Tres Leches: Three milk soaked brown butter cake, dulce de leche buttercream, caramel shards
Salty Dog: Tequila grapefruit cake and buttercream, candied grapefruit zest
Dark & Stormy: Brown sugar rum cake, ginger lime buttercream, candied ginger
Boston Cream: Vanilla cake, vanilla custard buttercream, chocolate fudge
____________________________________________________
Brownies
Classic Sea Salt
Chocolate Chambord:Raspberry Swirl
The Maltz: Bourbon & bacn
_____________________________________________________
Pies (rotating)
Banana Cream Pie: vanilla custard, bananas, mascarpone chantilly
Chocolate Cream Pie: chocolate budino, mascarpone chantilly, chopped Belgian chocolate
Individual Sweet Potato Pie: molasses gingersnap crust
Individual Butterscotch Tarts: butterscotch budino, homemade honeycomb candy, pretzel crust
_________________________________________________
Custards/Puddings/Tarts
Dark Chocolate Espresso Pot de Creme
Maple Whiskey Creme Brulee
________________________________________________
Cookies
Chocolate Chip
Dark Chocolate Almond
New Jerseys (sweet corn and blueberry)
Pistachio Cannoli 
Coconut Cream Macaroons (gluten free)
Oatmeal Chocolate Chip
Chai Shortbread Fingers
Whoopie Pies
Classic Vanilla Marshmallow
Dark Chocolate Dulce
Cookie Whoopies: chocolate chip cookies filled with Nutella and marshmallow
_____________________________________________________
Mini Cheesecakes
Chocolate Chip Cookie Cheesecake: chocolate chip cookie base, cheesecake, chocolate fudge, chocolate chip cookie
Cookies & Cream Cheesecake: chocolate cookie crust, chocolate crunchie studded cheesecake, crunchie topping
Chocolate Hazelnut Cheesecake: hazelnut crust, chocolate hazelnut cheesecake, Nutella frosting (gluten free)
_______________________________________________________
Breakfast Items (Tuesday-Friday)
Stumptown Coffee
Tea by Tiffany
Robicelli's Signature Hot Cocoa
Assorted Muffins
Banana Nutella Swirl Buns
Cinnamon Bun Crumb Cake with Cream Cheese Glaze
Weekend Brunch: Follow along on Facebook and Instagram for specials
For Layer/Occasion cakes or full pies, please contact us 48 hours in advance to order.