Flavors: Memorial Day, May 27th
Last week, in the days after the Oklahoma tornado, I made a plea on this site for funds to support Team Rubicon. If you follow us on Twitter (of course you do, right?), you've also been following along in our quest to raise $15,000.  Today, in honor of Memorial Day, I'm using our blog to tell you all a little more about Team Rubicon, who they are, what they do, and why they deserve your support.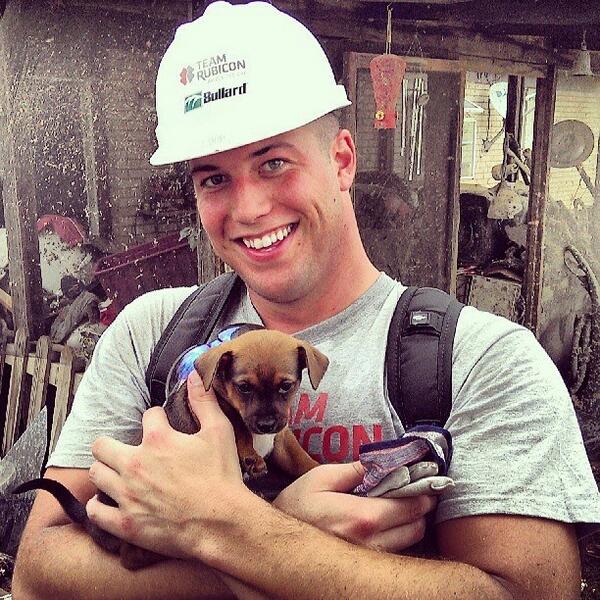 And also this guy! How can you not donate money now?!?!?!

First and foremost, Team Rubicon is a veterans organization. Men and women who have been bravely serving our country for years — sometimes ten or more — return home and suddenly find themselves with a lack of purpose. In 2010 TR was formed to utilize the skills and abilities of our American heroes to impact thousands of lives across the globe.  
When earthquakes destroyed Haiti, Team Rubicon deployed veterans to assist rescue efforts, and rebuilt cities that were literally destroyed.  When Superstorm Sandy decimated our hometown, it was the heroes from Team Rubicon who worked through the harsh New York winter; bringing strength, relief and hope to our forgotten neighborhoods.  And when a tornado destroyed Moore, Oklahoma, almost immediately Team Rubicon announced plans to deploy.
While these are United States Military Veterans, this is not a program funded by our government — this is entirely a volunteer-run non-profit organization who relies on the support of people like us to help them save the world.  
This weekend I was telling my sons, ages 4 1/2 and 6, about Memorial Day and what it was all about.  I told them about the wars America has fought in, and how the extraordinary bravery of seemingly average people has shaped the world.  My boys asked questions about Spiderman and Indiana Jones and the other heroes they see on the big screen. I told them about Team Rubicon, how these people are real, and how they are giving their lives in anonymity to help their fellow man — regardless of nationality, ethnicity, or religion.  I am proud to be an American, and proud to be able to do my part to support actual superheroes.
On Memorial Day, I hope you'll take a few moments to learn more about Team Rubicon and the good they put into the world, and perhaps donate a few dollars to help support their mission down in Oklahoma.  In one week our fundraising team has managed to raise over $9,000 — I would love to see us over $10k at the end of today, to honor the men and women who have given their lives for others.  Our average donation so far has been only $15, so every little bit adds up.  
God bless Team Rubicon, and God bless America.  We hope you all have a wonderful weekend, and we'll see you back here on Friday.  In the meantime, here's what we baked last night — more stuff going out all week.
Duckwalk: Vanilla cake, blueberry port syrup, blueberry port mascarpone buttercream, port simmered wild Maine blueberries
Pecan Potato Chip: Potato chip cake, vanilla buttercream, roasted pecans, potato chips, salted butterscotch
The Duckie: Peanut cake, peanut butter pudding, marshmallow buttercream, roasted peanuts
The Hinsch: Chocolate malted cake, vanilla buttercream, malted chocolate sauce, homemade malted milk balls