Flavors: Friday, May 4th
It's a super exciting DOUBLE holiday weekend made up of third string holidays! It's Kentucky Derby day AND Cinco de Mayo! WHO'S ALREADY DRUNK?
First let's talk about the Derby. All I knows about the ponies is that I'm almost 32 years old and I still don't have one. So there's that. Also at the Derby….
Lots of stupid hats! I don't have any of those either. This is not my day.
Fortunately, what I DO have is our super duper special one-time-a-year-so-get-it-now-because-you-won't-see-it-again-until-next-year-no-matter-how-much-you-beg cupcake- THE MINT JULEP! It's a bourbon-mint cake and buttercream with a hand candied mint leaf on top. We designed this one about two years ago when we only needed to make maybe 60 cupcakes a week, and 60 hand candied mint leaves didn't seem like all that much.  Fast forward to last night where Matt needed to make several hundred hand candied mint leaves, and you can understand not only why this will remain a once a year treat, but also why Matt isn't speaking to me today.
Also this weekend is the 5th most important holiday of the year (after Christmas, New Years Eve, St. Patty's Day and the night before Thanksgiving when all the college kids come home and get loaded)..
CINCO DE MAYO!!! Cinco de Mayo is the day where Americans from all over come together to remember en masse the marketing campaign Corona ran in the mid-nineties to get people to drink more Mexican beer. And boy did that one ever work!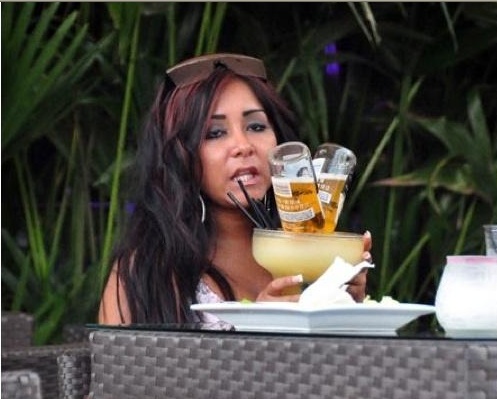 MEXXXXIIICCCOOOOO!!!!!
Every year, I ask my friends who are going out what exactly they're celebrating on Cinco de Mayo. And every year, I need to broadcast the single greatest response that I have ever heard in my life: "Cinco de Mayo is the day that New Mexico got it's freedom from Regular Mexico".
We're celebrating the, ahem, independence and tremendous bravery of the people of New Mexico, by making- ok, you know what, I need to stop. I can't even get through that in a joking manner. Everyone, sit your children down tonight and properly educate them about Cinco de Mayo, before it's too late.  If our kids are one day going to be dancing on a bar somewhere doing tequila shooters, at least we can be at home with the peace of mind of knowing they are at least informed about history and not embarrassing themselves.
Back to cupcakes.
We've got three special Mexican inspired flavors today! Returning is the incredible Abuelita, a sexy little number made with chocolate, cinnamon and cajeta. We've got the Tres Leches, which is a contender for being our most popular cupcake ever (and also one of our oldest- the 3rd cupcake we ever made). And finally, The Bluth, which commemorates one of Mexico's greatest culinary traditions- the Cornballer. Ok, maybe I'm stretching it on that last one, but it sure is tasty.
We'll have lots of other flavors of cupcakes, whoopie pies, and ice cream sandwiches headed to DeKalb Market on Saturday, but these particular flavors are heading out RIGHT NOW. Go get them before they're all gone!
Clockwise from front: Abuelita, Tres Leches, Bluth, Mint Julep
LIMITED EDITION! Mint Julep: Mint-bourbon cake and buttercream, hand candied mint leaf
Abuelita: Mexican chocolate cake, cajeta buttercream, ground Abuelita chocolate
Tres Leches: Three milk soaked brown butter cake, dulce de leche buttercream, caramel shards
Bluth: Chocolate banana cake, chocolate buttercream, roasted walnuts, ganache
___________________________
Cupcakes Available at:
Robicelli's at DeKalb Market: 138 Willoughby Street, Downtown Brooklyn
Aloha Grinds: 77th & 3rd Ave, Bay Ridge
Bagel Schmagel: 76th & 3rd Ave, Bay Ridge
Crespella: 7th Avenue off 9th Street, Park Slope
Blue Apron Foods: Union Street off 7th Ave, Park Slope
Eastern District: Manhattan Ave off Eagle, Greenpoint
Brooklyn Standard: Nassau Street off Jewel, Greenpoint
Battery Place Market: 240 Murray Street, Financial District
Cake Shop: Ludlow btwn Stanton & Rivington, LES
Bar 5F at Bergdorf Goodman: 5th Avenue & 58th Street, 5th Floor, Manhattan
Queen City Cupcakes: 62 West Main Street, Patchogue, Long Island
________________________________
Whoopie Pies Available At:
Robicelli's at DeKalb Market: 138 Willoughby Street, Downtown Brooklyn
Red Hook Lobster Pound: 284 Van Brunt Street, Red Hook
Queen City Cupcakes: 62 West Main Street, Patchogue, Long Island
_________________________________
Brownies Available At:
Robicelli's at DeKalb Market: 138 Willoughby Street, Downtown Brooklyn
Queen City Cupcakes: 62 West Main Street, Patchogue, Long Island
Oaxaca Tacos: 250 4th Avenue- Park Slope Brooklyn; 251 Smith Street Cobble Hill Brooklyn; 16 Extra Place, LES Manhattan; 48 Greenwich Avenue, West Village, Manhattan