Flavors: Monday July 16th
My internet came back just in time for me to see that we now have over twenty thousand Tumblr subscribers! TIME TO WANG CHUNG!
Seriously, thank you all so much for following.  We've seen this blog grow our business, lead to opportunities with television and big events, and it's even helped us nab a book deal.  And no matter what it is that I'm writing, it's the fact that you guys actually read this nonsense that has made the magic happen, so THANK YOU.  (side note- you can follow us other places, too! Check Facebook for daily flavors and business updates, and Twitter for 10% business, 80% of me screwing around, and 10% "other").
Now to conclude the news I began on Friday……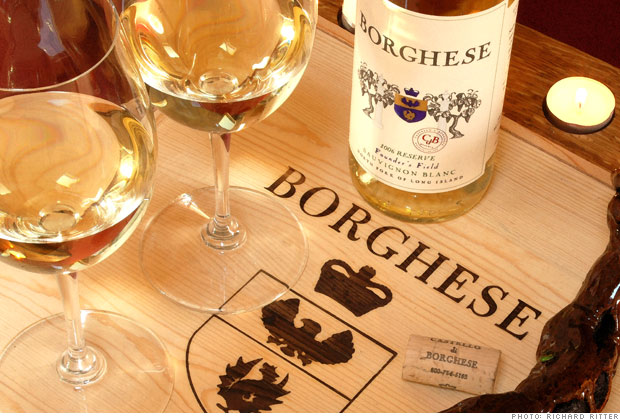 Next Sunday, Robicelli's will be holding a one day only pop-up at Castello di Borghese Vineyard! In July of 2005 Matt asked me to marry him, and we celebrated with a trip to Long Island's North Fork, with Borghese being one of our favorites. Now seven years later, we get to return as the married parents of two children, two cats, and one bakery. *sniff* 
Man, I wish I hadn't cued up that Wang Chung song so early, because I would totally cue up some Kenny Rogers right now.
Oh screw it. It's my freaking blog- and besides now you're all humming Kenny Rogers to yourself so let's just do this.
Coincidentally, I've just realized there's an excellent chance that in 20 years, Matt is going to look exactly like Kenny Rogers. It's way too soon to know how I feel about this. 
Now back to the point, which is that next Sunday, we'll be at Borghese with wine inspired cupcakes, and oodles of our "absolutely so good that your eyes will roll into the back of your head" Chocolate Merlot Brownie. If you've been saying to your friends "You know, we should totally rent a car and take a trip to the North Fork!", this weekend coming up is that weekend. Stop putting it off and come take over the East End with us!
You should also go out and eat some of these cupcakes RIGHT NOW, because who wants to wait for the weekend?
o
Clockwise from front: Root Beer Float, Chocolate Cashew, Peach Melba, Lime in de Coconut
Root Beer Float: Root beer cake, root beer custard, vanilla buttercream, maraschino cherry
Chocolate Cashew: Chocolate cake, cashew buttercream, roasted cashews, ganache
Peach Melba: Brown sugar cake, raspberry jam, vanilla buttercream, brown sugar peaches, graham cracker crumbs
Lime in de Coconut: Coconut lime cake and buttercream, roasted coconut, lime zest