Flavors: Friday, April 26th
As I mentioned in my schpeil on Medium earlier this week, Robicelli's is a lot more than just cupcakes. We've got whoopie pies (which you may know from places Red Hook Lobster Pound), brownies (which you may have had at places like Madison Square Garden), hot cocoa (blah blah blah Bergdorf Goodman) and more.
One item that doesn't make a lot of noise are our loaf cakes, because it's really hard to get super excited about those. It's not that they're not amazing- they're pretty much our cupcakes, but with the flavor turned up to 11 and baked in loaves instead of cups, and without buttercream. See what I was talking about in that Medium article? It's all marketing. It's like cupcakes are Mila Kunis, and loaf cakes are Joan Cusack. I'd like to have lunch with both of them, but no one is asking Joan to be on the cover of Maxim. 
But now, loaf cakes will have their moment in the sun!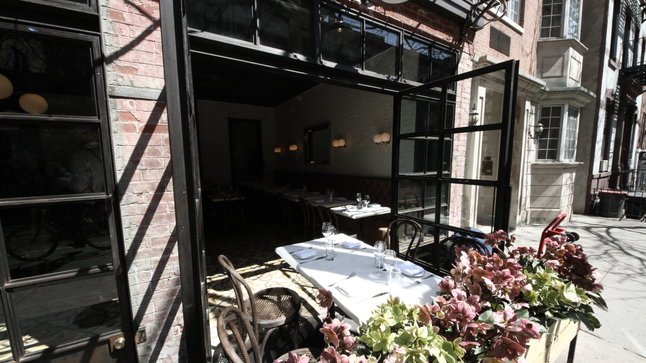 See this sexy- ass restaurant right here? This is Little Prince in SoHo, the amazing new restaurant from La Rivage's Paul Denamiel. They make something called a "French Onion Soup Burger", so that's really enough to inspire you to trample all the tourists ambling down Prince street looking for $2,000 sunglasses to eat there right this very second. If you're reading this in the middle of the night I'd suggest you just go and sleep on their steps, because once this burger is in your head it's not going to leave until it's also in your stomach.
But let's talk what happens AFTER the burger.
Desserts at Little Prince are being baked by yours truly. This spring, our Grapefruit Bitters pound cake is on the menu, lightly toasted with some French butter, then topped with gin-macerated berries and unsweetened whipped cream. Also on the menu is our classic sea salt brownie, topped with mascarpone gelato and brandied cherries.
But saw you are still not impressed with loaf cakes and want cupcakes for dessert. That's still doable. You can walk a few more blocks to —
Slide on Bleeker Street, which features a flight of our cupcakes on their menu.  Or you can walk a bit north to:
Oaxaca Taqueria, who offers our Fany brownie for dessert.
In the event you don't like going out to eat, or even live in NYC, then you should check out our webstore, where you can buy loaf cakes and brownies and have them shipped to your house. You can have all that deliciousness brought to you without even having to put on pants! Well, you'll have to wait a few days for us to bake it, ship it, and then for the delivery guy to find your house, so you may actually want to put on some pants so you can go out and grab some sunshine (Vitamin D deficiency is no laughing matter, and Matt and I can't in good conscience support it).  
And if you if you live in NYC and like going outside with regularity, you can hit all these restaurants, or you can visit us at next weeks Great American Bake Sale in Grand Central Terminal, or you can visit our retail partners who are getting these cupcakes today:
The JoJo: Salty chocolate cake, dark chocolate buttercream, sea salt, cookie crumbs
Duckwalk: Vanilla cake, blueberry port syrup, blueberry port mascarpone buttercream, port simmered blueberries
Banoffee: Banana cake, toffee pudding, mascarpone buttercream, homemade toffee candy
The Aris: Walnut orange cake, Greek yogurt buttercream, honey spice walnuts
PS: If you own a restaurant, want good quality desserts tailored to your restaurant, but don't have the room/budget for an in house pastry chef, you should give us a call! We will design and produce unique dessert items just for your concept- pastry chefs who are neither seen nor heard. Like ghosts! Ooooh, you should put that on the menu- "Pastry Chef: SPOOKY GHOSTS". Everyone will order dessert because no one wants to piss off the undead, and you increase your check totals. I am so full of good ideas tonight!