Flavors: Monday, November 26th
We're done with all our Thansgiving leftovers and have cracked open the eggnog, we've put carols on the stereo and put up our tree, and our Small Business Saturday sale has come and gone. This can only mean one thing……
IT'S CYBER MONDAY!!!!
Also our holiday flavors are back. This can only mean TWO things, then!
I know today we all love shopping in our underpants, but post-Sandy we also realize how important it is to support NYC based businesses rather than simply hand all our money right over to Amazon, just so they can run off and send that money right over to China.
image: the epoch times
As strong and resilient as New York City is, we're in a lot of trouble right now. Many hit hardest by Sandy were not even eligible for flood insurance post-Katrina, and the ones who did manage to obtain it are having their claims denied for various reasons. Insurers are also denying business interruption claims in Manhattan, claiming the blackout wasn't the result of a hurricane but rather "flooding", meaning they will not pay anything.  FEMA only offers businesses loans to recover, which no one wants to take for fear they won't be able to pay them back if our local economy doesn't rebound and our businesses fail regardless of aid packages. 
The amount of money it costs to keep a business afloat in NYC in unconscionable- even a single weekend of lost revenue can mean the difference between staying open or shutting your doors forever. The reality of post-Sandy New York is that there are literally tens of thousands of businesses on the verge of closing forever. And if those business close, they will take hundreds of thousands of jobs with them.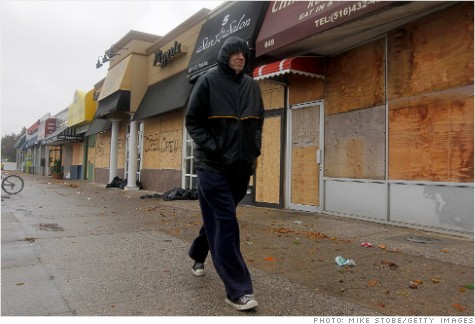 This is not what you want to hear about on Cyber Monday. You want to spend 30 minutes on the internet and get all your holiday shopping done.
Wouldn't it be nice if you could do something to help New York City rebuild, to keep Americans from losing their jobs, to keep fellow citizens from going bankrupt after the worst natural disaster in our city's history, instead of spending all of your holiday cash at companies who send our money overseas?
WELL MAYBE WE FIGURED OUT A WAY TO MAKE THAT HAPPEN.
A few weeks ago, I went out for egg creams with some associates where we discussed how people from all over America wanted to find a way to help in a way they were sure the money actually got to the people who needed it. We talked about how it would be great if there was a website like Amazon where you could shop for anything, but the goods wouldn't come from a giant warehouse in the middle of nowhere -they would come from small businesses and manufacturers right here in New York City, made by American hands.
Ladies and gentlemen, on this Cyber Monday I am proud to present this link to the official Made In NYC Online Shopping Portal! On the page you are about to view, you will find gifts for everyone you know: food, clothing, jewelry, home decor, cosmetics and lotions, gadgets, gizmos- and all of it made right here in New York City! We're not talking the mass produced stuff you'll find in any megamart- you'll find bespoke, unique pieces that many people have never seen the likes of before, things that will be cherished and remembered for years to come. Do your shopping with NYC this year, and you'll be doing a lot more than just giving everyone you know the most original gifts on earth- you'll be helping your neighbor, helping save jobs. Is there anything that exemplifies the holiday spirit more than that?
Of course, we're featured on the site (full disclosure as we had a hand in creating it).  Not only are the orders you guys have been placing with us helping us rebound, but we're even hoping that if we get busy enough with our new online store that we'll be able to bring on another employee. Straight from the horses mouth- the money you spend with us and other small businesses helps us more than anything else.
Being that it's Cyber Monday, you all want more than just shopping from your computer when you're technically supposed to be working- you also want big savings. Well, we're a small business and can't really afford to offer the steep discounts the big guys do. But in the interest of getting you to the Made In NYC site to poke around: Enter Promocode "CyberMonday" at checkout today only, and you'll get 20% off EVERYTHING. Brownies, cakes, hot cocoa- all of it is on sale (and delicious!), and we can ship your gifts anywhere you want in the continental United States (including your house if you feel like buying a gift for yourself as well). Then buy from the some of the many other independent fashion designers, mom & pop food companies and more- there's some amazing stuff on this site, and something for everyone!
Alas, cupcakes are not in our webstore, but if you're in NYC you should go out and snag them because, well, like I said: holiday flavors are starting to come back, starting with Hot Buttered Rum. And also fall flavors are dying a slow death, with the Pumpkin Caramel making it's final appearance this week til next year. Go tell it you love it before it's too late.
Pumpkin Caramel: Pumpkin cake, salted caramel buttercream, candied pumpkin seeds
Hot Butter Rum: Rum butterscotch soaked cake, hot buttered rum buttercream and drizzle
Hazelnut Kiss: Chocolate hazelnut cake, Nutella buttercream, roasted hazelnuts
Cookies & Cream: Chocolate cake, mascarpone and crushed cookie buttercream, chopped chocolate cookies